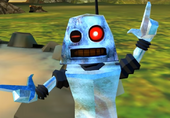 Toby ZX-81 is a robot created by Borjoyzee. He was made to assist in Base Building and is introduced after the Charger is killed.
Information
Edit
Objective and robotic, Toby only came to life when he was in danger. When the Reapers catch on to their presence, it flees and malfunctions when it accidentally runs into and "drowns" in the water.
Ad blocker interference detected!
Wikia is a free-to-use site that makes money from advertising. We have a modified experience for viewers using ad blockers

Wikia is not accessible if you've made further modifications. Remove the custom ad blocker rule(s) and the page will load as expected.